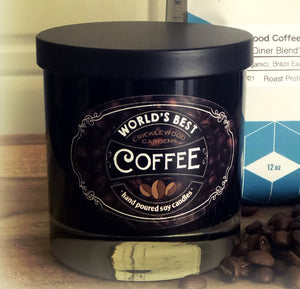 World's Best Coffee Natural Soy Candle 11oz
Sale price Price $28.50 Regular price Unit price / per
Great things begin with a cup of coffee ☕️, or coffee candles and soap!

Cricklewood's World's Best Coffee soy candles are a nod to the many great cups of coffee served in bustling NJ Diners, throughout the years. In fact, it was in 1950 at one of these very establishments, Cricklewood Coffee Shoppe, in South Orange NJ, that our parents first met. 
This candle variety is enhanced with a little bit of cinnamon and vanilla bean fragrance. 
Soy based candles do not use chemicals to enhance their fragrance strength, our scent rating for this candle (but to each his own) is: Strong
Cricklewood Gardens' natural soy wax candles are hand-poured and made in the USA.  Did you know natural soy burns about 95% cleaner than petroleum based paraffin wax candles?  Though paraffin might be easier to work with, we feel crafting our candles from vegetable based, non-toxic and renewable resources is the better choice. Be sure to follow our first burn guidelines for a long, smooth burn.  
Subject to local supplier availability, our signature 11oz jar colors will vary from; white, black, champagne, rose gold or amber. Some varieties may also use cobalt blue glass jars. The Libbey containers used to pour our 11oz candles are typically 🇺🇸  Made in the USA.
🎞 📷 across from the Cricklewood Coffee Shoppe, in a circa 1958 newspaper clipping, is mom's lookalike...her little sister Claire.