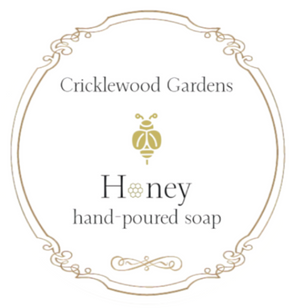 Honey [4/5oz] Soaps
Sale price Price $12.00 Regular price Unit price / per
Cricklewood's Honey glycerin soaps are softly scented, with added drops of natural honey and jojoba. Glycerin base soaps are for those who enjoy a straightforward wash, with limited froth. 
Other benefits? Glycerin is said to help prevent dry skin, by locking in natural moisture and may be a good choice for acne or eczema prone skin types. The infusion of honey is a perfect pairing with its natural anti-inflammatory and antibacterial elements, and a list of other benefits. 

Our Honey (hive and bee design) soap rounds fit comfortably in hand, for bathing. Soaps are typically poured at time of order, and come individually foil wrapped. 
Our Soap Process: We pour our Cricklewood Garden soaps, many enriched with skin soothing honey and oils, in small batches. Wonderful for hand washing, depending on adult skin type and individual sensitivity, our soaps may also be used for a luxurious full body cleanse.  Soap base combinations will vary depending on availability. Ingredients used in our soap blends, excluding Cricklewood's fragrances and infusions, are listed below. If you require more information prior to ordering, contact inquiries@cricklewoodgardens.net
The following soap blends are used in this product:
Honey Blend: Ingredients; Pure Honey, Glycerin, Proplyene Glycol, Coconut Oil,Triethanolamine, Sodium Cocoate, Sodium Myristate, Sodium Laurate, Sodium Stearate, Sorbitol, Sodium Laureth Sulfate, Purified Water.
African Black Blend: Ingredients; Vegetable Glycerin, Propylene Glycol, Coconut Oil, Triethanolamine, Sodium Cocoate, Sodiam Myristate, Sodium Laurate, Sodium Stearate, Sorbitol, Purified Water, Palm Oil, Cocoa Pod, Palm Kernel Oil, Shea Butter, Plantain Skin Ash.