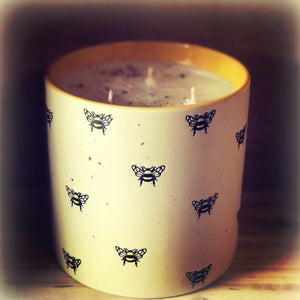 Honey Bee Wildflower, 3 Wick Bee Jar [wood lid] 44 oz
Sale price Price $48.50 Regular price Unit price / per
Drips of honey and wildflower carried on a breeze. This beautifully light floral scent, with just a touch of sweet honey, fills an adorable bee jar. Candle is drizzled with dried German camomile and wildflower petals. 
🐝  Beekeeping has been in our family for 80 years, starting with my husband's grandfather. Cricklewood's Honey Bee soy candles and soaps are a thank you, of sorts, to all the queens, drones, worker bees [and bee keepers!] so essential to our crops and existence. Wherever you might reside consider doing something to promote the honeybee.  Bee keeper associations, nationally and globally, share simple, educational suggestions on their websites. 
Soy based candles do not use chemicals to enhance their fragrance strength, our scent rating for this candle (but to each his own) is: Soft
Cricklewood Gardens' natural soy wax candles are hand-poured and made in the USA.  Did you know natural soy burns about 95% cleaner than petroleum based paraffin wax candles?  Though paraffin might be easier to work with, we feel crafting our candles from vegetable based, non-toxic and renewable resources is the better choice. Be sure to follow our first burn guidelines for a long, smooth burn. 
Subject to local supplier availability, our signature 11oz jar colors will vary from; white, black, champagne, rose gold or amber. Some varieties may also use cobalt blue glass jars. The Libbey containers used to pour our 11oz candles are typically 🇺🇸 Made in the USA.